IBBETSON STREET PRESS - POETS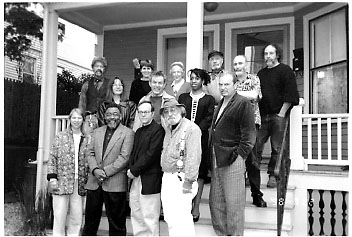 A "City of Poets"!
We publish local, regional and national poets. Some of our contributors are:
a poet and an independent scholar in women's history, has published widely in the small press and in one book--A Pause in the Light.

award-winning poetry, including the Master's Slam (1997 National Poetry Slam) often explores issues such as the impact of the US blockade on Cuba. He curates the Poets' Theater at Club Passim in Cambridge.

Linda H. Conte began her study and practice of poetry at Connecticut College with William Meredith. She helped produce the Poetry at the Media Lab series at MIT.

ED GALING

RALPH HASELMANN, Jr.

Doug is the founder, publisher and co-editor of The Ibbetson Street Press. His work has appeared in BostonPoet.com, FRESH! Literary Magazine, Boston Globe, Spare Change and others...

Joanne Holdridge is an instructor a Bunker Hill Community College in Chalesown, MA. Her work has appeared in Pinyon Poetry, whiskey Island, Wisconsin Review, Spare Change and others.

Robert K. Johnson is a retired profesor of English at Suffolk University. He has been published widely and rns the Newton Free Library poetry reading series.

JACK POWERS

the founder of the Stone Soup Poets, has produced over 1,500 consecutive weeks of poetic performances. He has read in Europe, Russia, and the U.S. Jack is one of five recipients of the first Anne Bradstreet Lifetime Achievement Awards.

LYN LIFSHIN

SUE SULLIVAN

Sue Sullivan is an expressive therapist and a regular contributor to The Ibbetson Street Press. Her work has also appeared in Spare Change and Pine Island.

RICHARD WILHELM

worked as a VISTA volunteer in 1969-1970. He has exhibited paintings at the Piano Factory in Boston and at Cambridge Center for Adult Education. He is the Art Editor at Ibbetson Street Press.

MICHAEL ZACK

and more!
A Thought: please subscribe to us $7/issue,$13/2 issues, and think about this:
"And yes, I do what I can to support both small presses and independent bookstores---these are where most of the authentic voices are to be found, if we do not support them the silence will be profound." (Linda Porter, editor PINE ISLAND JOURNAL)